CRC Optional Rear Graphite top Plates for Gen-X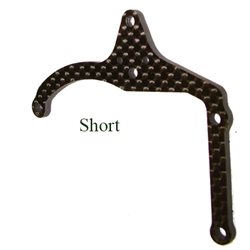 These top plates are for the Gen-Xi allowing optional rear shock positions. You can utilize these positions by lengthening the shock. Or these new extended rear top plates can be use to move the rear shock forward in .25 inch and .5 inch increments. Typically, when the rear shock is mounted more forward, more mid and exit steering is achieved. It is a quick simple change that can be done to alter the handling of the car.
Sold as a set of 2. With .25 inch and .5 inch movement that matches the hole pattern on the Xi.