Tamiya PS-30 Brilliant Blue Lexan Spray Paint (3oz)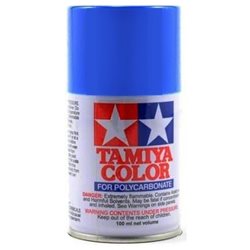 The "Brilliant" spray paint was developed especially for decorating transparent polycarbonate bodies used in R/C car modeling. Each can contains 100ml of paint, which is the appropriate amount for finishing the model.
Note: TAMIYA PS Paints should not be used on plastic models. please use Tamiya TS spray paint on plastic models.