SXT Racing 3.0 "Lite" Foam & Rubber Tire Traction Compound (Carpet)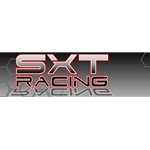 SXT 3.0 was designed to provide superior performance in a minimum odor environment for both foam and rubber tire racing.
3.0 Lite was developed to cut down on the aggressive feeling that occurs on high bite carpet racing, especially with the new black carpet release by CRC this season. Pick up a bottle with the chrome dot on the cap!
Carpet Foam and Rubber Tire

Ideal in high bite situations

Increases corner speed

Reduces twitchy feel

Apply for 5 to 30 minutes as needed

Wipe tires off before heading to track

Marked with chrome dot on cap
(Identify by silver dot on cap)
Restricted to Ground Shipping