JConcepts Illuzion "Ford Raptor SVT SCT-R" Body (Clear)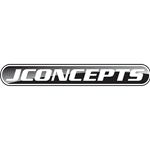 One size fits all, or in some cases one size fits most, is more appropriate. JConcepts introduces the One Size Fits Most ROAR National Champion winning, Ford Raptor SVT body. With an ever increasing number of SCT trucks on the market a need for a body that is extremely versatile is in demand.
Please note: All bodies are sold in crystal clear Lexan and are painted for advertising purposes only.