PROTOform Cadillac ATS-V.R 190mm Body (Clear)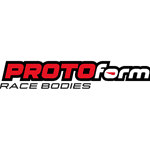 Cadillac Racing stormed back into the motorsports spotlight in 2015 with their factory-works.
ATS-V.R race car, the third generation of V-Series race cars. Built to international FIA GT3 specifications, this pedigree allows it to potentially run in more than 30 different GT series around the world.
Please note: All bodies are sold in crystal clear Lexan and are painted for advertising purposes only.