PROTOform J71 Vintage Racing Body (Clear)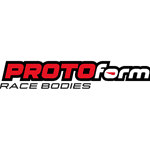 PROTOform's foray into the diverse class of Vintage Trans am is a rendition of the 1971 AMC Javelin, Trans-Am Championship winning car. The addition of the J71 to the VTA scene surely adds new excitement and drama to this up and coming class.
Please note:

All bodies are sold in crystal clear Lexan and are painted for advertising purposes only.