XRAY Composite C-hub for ESC (Hard) Right/Left (0°,2°,4°,6°)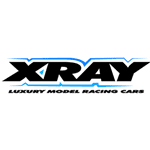 Molded composite C-hub for left steering block. The inside hole was enlarged to allow to use new extra stong ECS driveshafts. Caster pre-set at (0

°,

2°,4°,6°).
Hard rigidity for foam-tire racing.
C-hub has large openings for quick & easy CVD and ECS assembly/disassembly. The entire CVD and ECS assembly can be easily inserted/removed through the C-hub without disassembly. The large openings prevent collision of CVD and ECS with C-hub in serious crashes, and are designed for use with optional ECS drive shafts.
The C-hubs are available in all standard caster angles (0

°,

2°,4° and 6°) and are also available in 2 different hardnesses (Medium, Hard) for different racing conditions.