Hudy Double-Sided Hardware Box (Compact)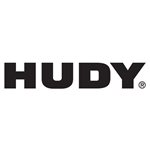 Very handy and useful double-sided compact box for hardware storage. Tough, durable translucent plastic box has 10 fixed and 16 adjustable internal compartments and a separate latching cover on each side. Easy, quick-access storage for small parts. High-quality HUDY graphics.
Dimensions:
10cm x 12cm x 3.3cm
3.94" x 4.73" x 1.30"