Hudy 12 Gram Low CG LiPo Chassis Balancing Weights (2)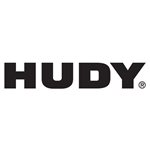 Perfect for VTA. Add required weight and lower the CG all in one.

HUDY slot chassis weights perfectly fit into the chassis slots of most popular electric touring cars, including the XRAY T3. These extra weights – necessary for use with lightweight LiPo batteries – may be placed in the correct and lowest positions on the chassis.

For use with battery packs with or without battery location ledges.Available in two different weights: 6g and 12g. The 6g weights are best used with LiPo packs that have battery chassis location ledges; the 6g weights may be located between the ledges. 2 pieces per package. CNC-machined from brass, black color powdered and laser engraved with the weight for instant identification.