Hudy Metric Allen Wrench M4.0 x 120mm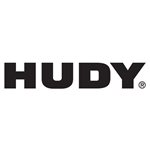 HUDY proudly presents its line of Professional Tools. Hudy engineers have designed a perfect-fit, ultra-lightweight tool that offers exceptional torque, comfortable use, and long life. All HUDY products are solely developed and designed by HUDY, the leader in innovation and design. All tools are manufactured from highest-quality materials for unmatched strength and durability. Special care is taken through production to ensure that each product is 100% perfect, and ready to use right out of the box. Total quality management is of prime importance through design to final production, and the result is superior, professional quality tools that are second to none.

The hollowed, lightweight duraluminum handles feature a specially coated anti-slip grip. These handles also are marked with grooves according to the size of the tip, so you can easily identify the size of the tool at a glance.