Hudy 17mm Off-Road Wheel Nut Tool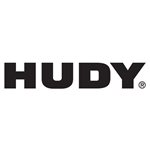 The extra robust HUDY Wheel Nut Tool was specially developed to work on the 1/8 Buggy and Truggy 17mm wheel nuts in dirty and abusive conditions.

No matter how tightly the wheel nuts are locked, the HUDY Wheel Nut Tool will allow you to very easily and comfortably release the wheel nut. The special design of the oversized handle gives you superior torque to tighten the wheel nuts (helping to ensure no more lost wheels) as well as loosening them.