AKA Typo 1/8 Buggy Pre-Mounted Tires (2) (Soft)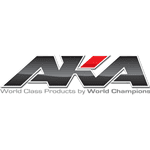 After a highly successful release, the 1:10 Typo quickly became the go-to indoor tire. Meet it's big brother, the 1:8 Typo! The Typo is a very low tread pattern that has been optimized for hard-packed indoor tracks and low dust, grooved outdoor tracks. They are available in AKA's race proven Clay, Super soft and soft Compounds.
Included:
One pair of pre-mounted tires with Red (Soft) inserts and White EVO wheels.