Protoform MS7 190mmTouring Car Body (Light Weight/Pro-Lite) (Clear)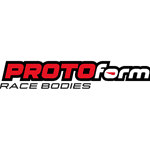 The MS7 is PROTOform's new contender for high-grip track conditions. With a reduced downforce, more free-feeling car, the MS7 glides around surfaces such as CRC black carpet with superior corner speed. This body delivers smooth turn-in characteristics with increased mid-corner rotation, perfect for spec classes and small, tight tracks. It has also proven capable on high-grip asphalt tracks.
Please note: All bodies are sold in crystal clear Lexan and are painted for advertising purposes only.