JConcepts A-One 190mm Touring Car Body (StdWt/LtWt) (Clear)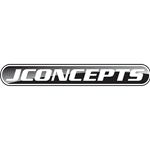 JConcepts enters the touring car racing genre with the new A-One body. Designed and developed to compete amongst the elite, the new body incorporates the latest benefits of computer aided design with experience, patience and championship level results. The JConcepts team, together with Paul Wynn and Jason Ruona, have a lot of track-time in the on-road racing game and high-expectations for performance.
Please note: All bodies are sold in crystal clear Lexan and are painted for advertising purposes only.