Kimbrough 64P Precision Spur Gear (76T-124T)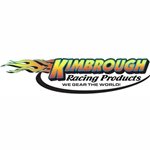 Kimbrough Racing Products Plastic Gears have been used to set all of the unlimited speed records for R/C 1/10 scale electric cars in the U.S., and are used by a large number of the top professional R/C car racers around the world.
The tooth shapes of Kimbrough Racing Products gears are cut with state of the art, Wire Electronic Discharge Machines (EDM). Particular attention is given to plastic shrinkage and gear backlash.