PROTOform R19 1:8th (Light Weight/.030) Body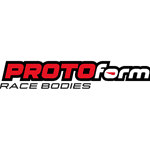 Featuring new aero concepts and air management contours, this body is already a proven winner in the hands of Team PROTOform's Dario Balestri. The R19 was used to capture the Italian Constructors Championship, with 2 other R19's also qualifying into the A-final at the world famous Fiorano track.
"The new R19 body is simply awesome. More steering, more downforce, easier to drive. A great improvement." – Dario Balestri
Note: All bodies are sold in crystal clear Lexan and are painted for advertising purposes only.