Slapmaster Tools Thrust Bearing Kits
This thrust bearing kit spans over the 1/4" x 3/8" hub bearing with a specially designed delrin spacer removing it' s side load, uses an actual thrust bearing which greatly increases differential longevity. The rear tire can easily be removed without any interference. A black anodized aluminum lock nut is included.
The ongoing changing market continues to toss variables into selecting the correct Thrust Kit. Consider the chassis you are using, 1/8 vs 3/32 diff balls, and if you have replaced your kit with a non-factory axle. You can also measure from the diff hub bearing to the remaining portion of the 1/4 inch axle, add 0.020" or 0.5mm, then reference which thrust kit is needed.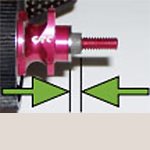 Specs:
SMT101 will fit most 12th & 10th scale pan cars
SMT109 will fit Asc 12R5.2 & GenXLE with 3/32" balls
SMT120 will fit GenXLE & GenXTI with 3/32" balls

Note: Will not work with new metric stud CRC axles.