John's BSR Racing 1/12th Pre-Mounted SPEC Tires (2) (Front/Rear)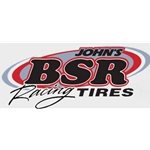 Originally designed for tracks to use for their "control tire" class, but also very popular for the new CRC "BLACK" Carpet. Based on the 1/10 World GT "SPEC" foams, long wearing and resistant to chunking reducing the cost of racing.
NEW BSR High Velocity 38mm Diameter Black Wheels mounted with the"control tire" foam using BSR's advanced gluing technique for the best in performance and durability.