JConcepts Silencer Body (Clear) (MBX7/MBX8 ECO)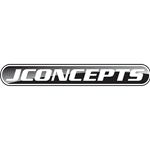 JConcepts, out to Silence the competition, debuts new Silencer body design for Mugen MBX-7 Eco vehicle. One of the most recognizable styles, the Silencer body has now been designed for perfect fit and finish on the Mugen MBX-7 and MBX-8 Eco buggy.
Please Note: All bodies are sold clear and are shown painted for advertising purposes only.