PROTOform 1/8 On-Road Body Aero Kit w/Spoiler & Stiffeners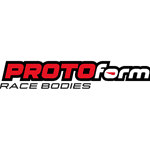 This is a 1:8 Aero Kit w/ Spoiler and Stiffener for 1:8 On-Road for bodies, such as the IFMAR World Championship-winning PROTOform R18 and P909. Keeping the aerodynamic and structural integrity of your 1:8 On-road body intact is an essential part of high-level racing, and now you can reinforce yours with the lightest body stiffening kit on the market.
Please note:

All bodies are sold in crystal clear Lexan and are painted for advertising purposes only.