PROTOform 190mm Touring Car Anti-Tuck Body Stiffener (2)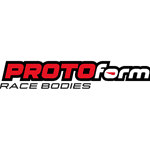 We've all been there before. Hours of preparation, countless practice laps, flawless qualifying runs and at last you've reached the moment of truth: the finals. In an instant, a simple tap or swipe across the rear bumper from a fellow racer ends your podium hopes. The dreaded body tuck.
Please note:

All bodies are sold in crystal clear Lexan and are painted for advertising purposes only.