PROTOform STRAKKA-12 1/12th (StdWt/LtWt/ProLite) Body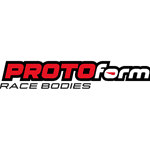 PROTOform is taking aim at 1:12 Stock and SuperStock classes with our new 1:12 race body, the Strakka-12.
Modeled after an all-new racecar contending in the WEC series, the Strakka-12 is a reduced -downforce alternative to the ultra-successful AMR-12. This race body will help your 1:12 Stock or SuperStock car slip around the track efficiently without scrubbing too much all-important corner speed. Modified racers looking for a less downforce on super high grip tracks can also use the Strakka-12, attaching the add-on Gurney Flap marked out in the back of the body.
Please note: All bodies are sold in crystal clear Lexan and are painted for advertising purposes only.