PROTOform PFM-12 1/12th GT12 Body (Clear)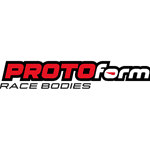 Aimed at 1:12 On-Road racers who want close, competitive, scale-looking racing without breaking the bank, GT12 is a brand-new class that has emerged in the UK with the potential to spread to carpet tracks around the globe. Introducing PROTOform's first race body for the GT12 class: the PFM-12.
Please note:

All bodies are sold in crystal clear Lexan and are painted for advertising purposes only.