PROTOform F1-Fourteen Body (Clear)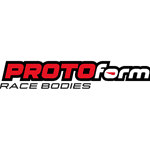 F1 has seen a massive resurgence in R/C racing the last few years, and no one has been happier to see it than the gear heads at PROTOform.

PROTOform

is proud to release two all-new race bodies taking styling from the last few years of Formula 1 race cars: F1-Thirteen and F1-Fourteen.
Please note:

All bodies are sold in crystal clear Lexan and are painted for advertising purposes only.