PROTOform PFR18 1/8th (LightWeight) Body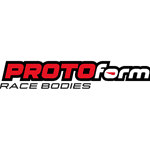 2011 was a spectacular year for PROTOform in the 1/8th IC Nitro On-Road class. Not only did 8 A-Main finalists at the IFMAR WORLDS in Homestead Florida chose the P909 body, but the other 2 A-Main drivers chose the PROTOform R15, which ran the quickest lap times of the entire event. In the end, Robert Pietsch brought home the very deserving win and trophy.
Please note: All bodies are sold in crystal clear Lexan and are painted for advertising purposes only.