PROTOform SRS-N Sedan Body (200mm) (Clear)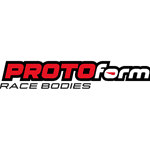 Nitro sedan racing has never seen a body quite like the PROTOform SRS-N.
The EFRA legal PROTOform SRS-N (#2047) provides great steering input while maintaining excellent stability. It features state-of-the-art aerodynamics, as well as ultra aggressive and unique styling.
Please note: All bodies are sold in crystal clear Lexan and are painted for advertising purposes only.