PROTOform P37-R (RUBBER) 190mm (StdWt/LtWt) Body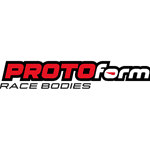 PROTOform is proud to announce a new 190mm sedan race body for rubber tire competition. The new PROTOform P37-R (rubber) is suited for both indoor carpet as well as paved racing surfaces and is available in both "Lite" and "PRO-Lite" weights. It comes with protective coating, window masks, decals and wing hardware. The P37-R conforms to all the EFRA Global Body Spec criteria.
This sleek and racy-looking body is sure to add some diversity to the racing sedan scene will be seen on the winner's podium soon!
Please note: All bodies are sold in crystal clear Lexan and are painted for advertising purposes only.