PROTOform P37-R 190mm Body (Clear) (Lt Wt)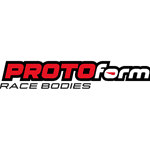 PROTOform is proud to announce a new 190mm sedan race body for rubber tire competition. The new PROTOform P37-R (rubber) is suited for both indoor carpet as well as paved racing surfaces.
Please note: All bodies are sold in crystal clear Lexan and are painted for advertising purposes only.