PROTOform LTC-R 190mm (StdWt/LtWt,ProLt) Body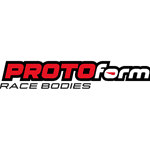 The PROTOform LTC-R has become the industry standard race body for rubber tire touring car racing, having won multiple IFMAR world championships, ROAR National Championships, European Titles, Snowbird Nationals, and International Indoor Championship titles.
This Global Body Spec-ready race body is designed specifically for these lower-grip applications, with slightly more steering ability than the all conquering PROTOform Mazdaspeed6 body style.
Please note: All bodies are sold in crystal clear Lexan and are painted for advertising purposes only.