PROTOform P909 1/8th (Light Weight) Body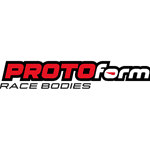 The PROTOform P909 currently reigns as the top race body for the Kings of the Sport - the 1/8th Nitro On-Road category. This body offers contemporary styling as well as state-of-the-art aerodynamic features, and was the body of choice for 2011 IFMAR World Champion Robert Pietsch.
Please note: All bodies are sold in crystal clear Lexan and are painted for advertising purposes only.