PROTOform PF8-GT 1/8th Body (Clear)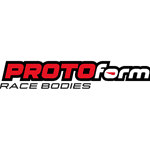 One of the most exciting classes to emerge in recent years has been the 1/8th scale GT class. The gas powered Kyosho Inferno GT as well as the OFNA DM-1, Ultra GTP/GTP-2 have provided a great platform for some very exciting on-road racing. The PROTOform PF8-GT is sure to enhance speed and handling with its large rear wing and front splitter. Its pulled in rugged genuine lexan and features 3 wing struts for added durability. If more rear downforce is required, the wing has the extra lexan material needed to bend a gurney lip across the top edge. This body comes with protective film, decals and wing mounting hardware.
Sleek and functional from every angle - the PROTOform PF8-GT racebody is sure to be on the winners podium very soon!
Please note: All bodies are sold in crystal clear Lexan and are painted for advertising purposes only.