PROTOform R9-F (FOAM) 190mm (Standard Weight) Body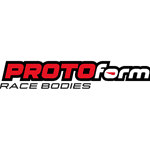 PROTOform is unveiling it's latest in a line of winning sedan bodies at the 2008 RCX Show. The all-new "R9-F" is a Global Body Spec ready race body specifically for Carpet/foam racing. It features a low center of gravity even at the legal 115mm height. For those club racers that like to run their bodies low – it's designed to be quite "slam-able" without clearance issues. In pre-production testing, champion driver Paul Lemieux has given it a big "thumbs up".
As usual the "R9-F" is pulled in genuine lexan and comes with protective film, decals and wing mounting hardware. We think it's going to be a winner!
Please note: All bodies are sold in crystal clear Lexan and are painted for advertising purposes only.