PROTOform R9-R (RUBBER) 190mm (StdWt/LtWt) Body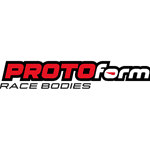 The much anticipated PROTOform R9-R is the latest in 190mm touring sedan bodies. This Global Body Spec ready race body is designed specifically for rubber tire racing weather it's on a carpet or a paved surface racetrack. It features a low center of gravity even at the legal 115mm height.
Please note: All bodies are sold in crystal clear Lexan and are painted for advertising purposes only.