Protoform Vittoria GT 190mm Touring Car Body (Clear)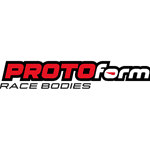 PROTOform's 190mm GT-style race body option for touring car racers in scale-spec style classes such as USGT, GT10 or Spec Grand Touring: The Vittoria GT. Vittoria GT takes inspiration from a new wave of Italian hypercars, featuring a low-CG, cab-forward design sure to provide exceptional handling characteristics while also looking stunning on the track. Fully-approved for competition by USGT rules, Vittoria GT is produced in high-quality .75mm (.030") polycarbonate, coming in at around 85-90g race-ready weight.


Please note:

All bodies are sold in crystal clear Lexan and are painted for advertising purposes only.