XRAY 4-Shoe Clutch Set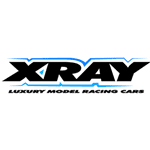 Complete set of 4-shoe clutch system includes flywheel, lightweight medium aluminum clutch shoes, gold (soft) clutch springs, assembly screws, flywheel collar, and flywheel nut.
The 4-shoe clutch design allows for super-easy clutch setting from soft to hard setting, each suitable for different track conditions and racing style.
NOTE: Must be used with 3BB clutch bells XRA 358413 or XRA 358413-L only.