XRAY T4'19 Aluminum Chassis 2.0mm Swiss 7075 T6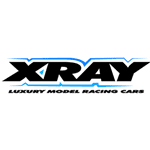 The ultra-narrow chassis is only 86mm wide with a variety of chassis flex adjustments that help to generate exceptional traction and give excellent steering characteristics.
The full stiff chassis allows you to tailor your T4 to particular track conditions. The aluminum chassis are CNC-machined from premium Swiss 7075 T6 aluminum, then black coated and laser engraved.