1up Racing TC7.2 Aluminum Lightweight Screw Set (Upper)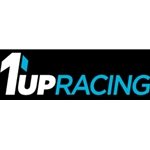 Lower your TC7.2's center of gravity and give it a splash of color with our Blue 7075 Aluminum Upper Screw Set! This set retains the stock steel screws at the bottom of the car where the weight is needed and uses lightweight M3 aluminum screws on the top side where the weight is unwanted. 65% lighter than the kit screws, reduces weight by 19g!
Includes screws for the optional Factory Team center belt tensioner. Does not include spur gear or motor mounting screws. See item 1UP150135.