Sweep EXP 100% CA Tire Glue w/metal nozzle.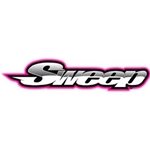 This CA is specifically developed for Today's High RPM Tires and Wheels. The Glue features thin viscosity, staying liquid for about 5-7 seconds before drying, when it cured the created bonding will permanently keep your tires and wheels glued.
Contains specially formulated tires glue in a convenient soft bottle.

No cut, No filler, only pure Cyanoacrylate (CA)

0.6oz (20g)

CAUTION! Use this or any hobby product at your own risk. This version of Glue EXP tires glue CA includes two stainless extension nozzles, when they get clogged, you may use a lighter to heat up the needle to open it back up. USE EXTREME CAUTION WHEN DOING THIS. CAN CAUSED FIRE as CA glue is EXTREMELY FLAMMABLE.