Protoform Vintage Trans-Am Racing Rear Wheels (31mm) (2) (Black)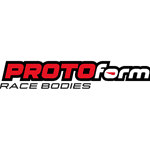 Following the release of our first ever tires, PROTOform is excited to release the accompanying wheels for use in US Vintage Trans Am Racing.
These 8-spoke VTA wheels are the perfect way to replicate the old-school scale look and feel of vintage racing. Utilizing a super-durable nylon material and molding technology perfected by our partners at Pro-Line Racing, we're proud to say these VTA wheels are 100% Made in the USA.