Protoform Vintage Trans-Am Racing Rear Tire (2) (31mm)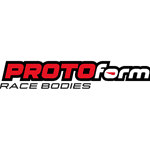 PROTOform is excited to announce our first ever tire: the new official spec tire for US Vintage Trans Am Racing.
This pair of VTA tires is fully-approved for USVTA Racing and is fully-capable on any surface: carpet, prepared asphalt or parking lots. Utilizing a super long-lasting compound and molding technology perfected by our partners at Pro-Line Racing, we're proud to say the new VTA spec tire will be 100% Made in the USA.